Jump To Win!
Project type: Exile Game Jam
Made: November 2011
My fields: Game design, Programming
Time spent on this project: 5 hours
Tools used: Unity 3.4.2, Visual Studio Express 2010, sfxr, 3ds Max
About this project:
Four-player one-button jumping mayhem with ever-changing camera angles and velocity. Bring friends! And beer!
---
UPDATE: During Summer 2013, I ported and published the game to the OUYA
You can download the game for free on the OUYA Store. Alternatively, you can watch the following Let's Play video made by user otakupunk.
---
During the Exile Game Jam Autumn 2011 at Vallekilde Højskole there was a "mini jam" the day before the real jam started, where participants decided to develop small one button games just for fun. The only constraint was that the games should be controlled with the keys S, F, H and K. You can play all the games here: Exile.dk/autumn2011.
Together with to other former students at Vallekilde Game Academy, I made a multiplayer jumping game in Unity, inspired by a the classic Nintendo 64 Mario Party minigames. In Jump To Win! four players control one character each with the purpose of jumping over a moving arrow. To spice things up, the arrow constantly changes speed and rotation, as well as the camera angles change to confuse the players.
The game is supposed to be a drinking game: if you lose, you have to take a drink.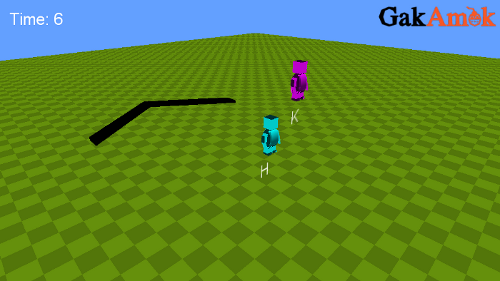 Credits
Gustav Dahl
Jakob Kjær-Galle
Michael Skjaldgaard
Music: SteNcils: "Spinning" – Newgrounds.com